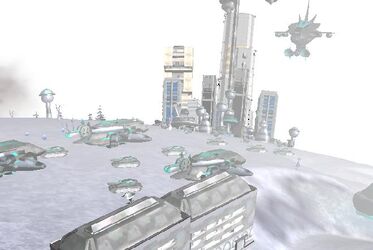 1: Kallen Redsankela and Skerliek Skazyr join the Red Revolution
1: TEC Nedisorpo Ukhulan Vyrovorm dies (2310-2486)
4: Kallen Redsankela takes over the TEC Government, the TEC Military attempts to assassinate him but fails, this begins a Short civil War
February
Edit
11: The Kunica Alliance surrenders to the TEC, ending the Kunica wars.
16: Hover car racer "Jack Bobby Jr." is murdered, Laurie Rogerson is arrested.
20: Krovan, Nuvri Zuvsin is appointed Commander of SSTO
5: Henegan Ardenne takes part in a robbery of the Karikus Armory in Gormandy, Adairis
14: Chall Balevaar and Yeuv Gil leave the Sapphirian Sector following the Shrine Republic's Invasion of Lyonus
15: A Human skull is discovered on planet Frontier suggesting the "High Antarctic Empire" Theory, as the skull is around 98,000 years old.
21: The first Kaiser Quarters collapses during an Earthquake in Antarctica, killing 1177 and severely injuring Kaiser Matt Tygore who spends the next 10 days recovering in his old homeland in the District of USA, among the dead, is James Albert Ranson's father: "Tanner Ranson" (2420-2486) and James' brother Rick Ranson (2449-2486)
10: Stratun Representatives, push for independence from the UTSEA, the votes fall short by 3 Unionist representatives.
12: Matt Tygore thwarts an assassination attempt in the district of USA, Karen Monroe (2459-2486), the failed assassin is killed on live broadcast.
September
Edit
17: Boreluzian Forces (24,000 strong) capture Hyron II from the Hylogan Directorate.
18: Lonian Forces skirmish with the Fourth Shrine Republic near Varrelin
23: Shrinen citizens of the "Boromet Vandergil cult" spread rumors that the coming Double Solar Eclipse is a sign from a mythical demon called the "Nitrox Kraigon" that he has come to consume their psionic link and bring about a third Brain plague
10: The Double Eclipse occurs on Shrine and 27 Boromet Vandergil cult members are arrested for the crime of "Vakkerekai" or "False rumors"
November
Edit
11: Saolang Chun joins the Red Revolution on Tygotan.
December
Edit
3: Silverstone Mercenaries sign a deal with the Dark Star Conglomerate to trade and support eachother.
Ad blocker interference detected!
Wikia is a free-to-use site that makes money from advertising. We have a modified experience for viewers using ad blockers

Wikia is not accessible if you've made further modifications. Remove the custom ad blocker rule(s) and the page will load as expected.